To kick off my new video series highlighting local eateries, I visit one of my favorite places in downtown Redlands, Darby's American Cantina. Located in the heart of the city, at the corner of State and Orange streets, the cantina offers a friendly, approachable vibe that reminds me of the restaurant and bar on "Cheers," (which, by the way, was based on a long-ago Redlands restaurant).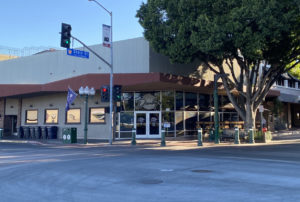 Darby's offers diners great American and Mexican comfort food in a casual, friendly environment. During this premiere episode, I chat with creator and co-owner Jon Darby, who fills me in on his background, his vision and the type of experience he would like his diners to have.
The cantina is his brainchild, developed with the help of his brother, Jim Darby, and his cousin, Brian Pinkus. Jon started in the bar and restaurant business 30 years ago in Hollywood and has helmed his Redlands establishment for nearly a decade.
Viewers also meet Executive Chef JJ, who describes the menu he created at Darby's as he whips up a few of the cantina's most popular dishes. Among these are the Aha Ahi, the Quinoa Stack and the Cantina Steak Pasta. In the comfortable and inviting wrap-around bar area, I sample several of the cantina's signature cocktails.
Diners also get a chance to weigh in as to what dishes they enjoy most and why Darby's is one of their favorite places to hang out. It's no wonder that the spacious sports pub with more than 30 TVs and 40 beer taps has became a local favorite.